PvDC Cloud
Your Customizable & Adjustable Datacenter.
Unlike competitive cloud providers, Net3 Technology's Palmetto Virtual Datacenter (PvDC), allows you to re-adjust and reconfigure resource allocations within your work environment at any time. No matter how your resources are initially allocated, you have the ability to grow and contract as needed - without ever having to move your workload.
PvDC also provides you with access to extensive public and private catalogs of VM templates. That means whether it's creating a new virtual machine, uploading the ones you're already running in your internal environment or even building new vApps, you can do it all within your virtual environment.
Experience The Power of PvDC Cloud




Relieving pressure on in-house IT services
Reducing internal hardware and software requirements
Streamlining your IT capabilities cost-effectively
Increasing your company's agility and efficiency
Boosting reliability without compromising security
Providing backup and disaster recovery
Offering specific services tailored to your company's needs

Utility Billing Model for your server resources


PvDC Cloud Portal View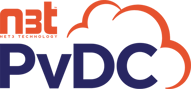 Making Moving To The Cloud Easy
It's a complex process, but Net3's PvDC makes moving to the cloud seem simple. First, we conduct a comprehensive audit to assess your needs, assets, process, and technology. We identify any potential risks and analyze any gaps. We develop a matrix of applications that can and should move to the cloud, then put our experience and migration tools to work in making the move efficient and seamless. We'll even work with your people, ensuring that they not only understand how the new system works but how it can help them do their jobs better.
There are lot's of ways to put PvDC to work for your company.
Check out our services for Backup, Disaster Recovery and Production.
For more information, contact us and a Net3 Representative will contact you within 24 hrs.