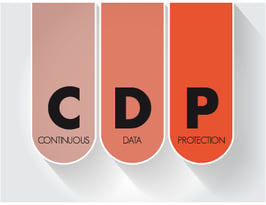 Since data is the lifeblood of every business, companies are constantly figuring out how to best back up their data. Backups are a company's insurance policy for data loss. But when it comes to recovery, traditional backups can pose an issue: data gaps.
Data is a fast, ever changing business component. Traditional backups, though useful, cannot capture every detail of every change with their snapshot technology. When a business recovers from data loss, data gaps can still leave some paralysis when trying to come back online.
Gijsbert Janssen van Doorn from Zerto frames recovery from backups quite well:
"You can't tell a fast-paced, constantly changing story with a series of still pictures - you'll definitely miss something important. You need a streaming video story that shows every moment and captures all the details."
When it comes to recovery, this "streaming video story" can be achieved. With Zerto, data is recorded in a continuous fashion – in real time. You can rewind and recover from any point in time with recovery points in single digit seconds. You can come back online rapidly as well – in single digit minutes. Your business does not have to be paralyzed during, or after, a DR event.
Now this continuous data protection strategy doesn't eliminate the need for backups. Backups definitely serve a valuable purpose. The value of Zerto is when it's used for critical applications that could cripple the business if a data loss event occurs.
To learn more about this streaming, granular recovery, read this informative white paper from Zerto's Gijsbert Janssen van Doorn. To achieve this recovery, contact Net3 Technology. Net3 recommends layering Zerto on top of your backups. By using Zerto only for the critical business applications, businesses can have a complete and affordable recovery plan. With Net3's Recovery Preparedness model and strategic pricing, businesses can meet their company objectives at an affordable monthly price.