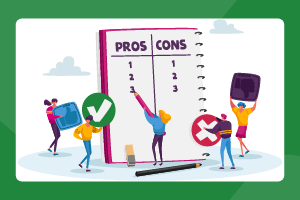 Compared to the perpetual license model, the SaaS subscription model has taken off over the years. Cloud Computing, which allows you to pay only for utilized resources, has gained immense popularity since companies can now offer more flexibility in their pricing options for their customers. For Backup and Disaster Recovery Products specifically, the options can be flexible as well: buy a Perpetual License or a Subscription license.
But Which is Better?
It depends on a few factors as they both have advantages and disadvantages. When it comes to purchasing Backup and Disaster Recovery Solutions, it's important to know the pros and cons for both so you can make the best purchasing decision for your business.
Perpetual Licenses
This has been the main form of purchasing a Backup/DR product over the years. Typically, there is an upfront cost (quite big) that entitles the owner immediate access to the software. There could be a subscription fee added for updates and technical support.
Advantages – Though there might be a large upfront fee to purchase, it does cost less over time. Also, if you fail to renew support services, the product will still work and be available to you for as long as you have it.
Disadvantages – When the support contract expires/ doesn't renew, any patching or updates are no longer available. If you need an upgrade, you will have to purchase the product again. Over time, the software does eventually become obsolete. The hardware and surrounding software will not always be compatible to the software you purchased.
Subscription Licenses
This "new" way of purchasing licenses is more like renting the license. Subscriptions can be monthly or yearly and typically include updates and technical support.
Advantages – The initial out of pocket cost is lower compared to the perpetual purchase. This can be beneficial for new start-ups or smaller companies trying to keep a close eye on cash flow. Updates and patches are immediately available when released and are typically all included in the contracted monthly/yearly price. New releases and updates always ensure you have the most up to date software performing for your business.
Disadvantages - Long term, it does cost more, and if you fail to renew the subscription, the software stops working all together.
There is no right answer when it comes to making this decision, and there is always a break-even point between purchasing a perpetual license and a subscription license. It's up to you to determine where that break-even point is. Weigh the pros and cons of either having the most up to date software available including support with the subscription model vs. buying the perpetual license outright and being happy with all it can give you within that one purchase.
At Net3, you have the flexibility to purchase Backup and Disaster Recovery solutions through different pricing models. If you need help determining which backup/DR product is right for you and how to structure payments according to your business goals, contact us!