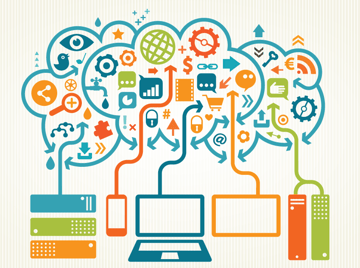 Cloud migration is the process of a business moving some, or all of its data to the cloud. Moving data to the cloud offers many benefits such as cost savings, flexibility, increased security, and scalability. However, the process of moving data from on-site infrastructure to the cloud is a complex process and comes with risks. Below are 6 common migration errors and how Net3 Technology can assist SMB's to successfully and seamlessly move to the cloud.
#1: Current IT Infrastructure Incompatible
Risk: When businesses are faced with complex IT infrastructures that they are trying to migrate to the cloud, they can be impacted by slow speeds and inefficient migrations. Inefficient migrations can result in data loss, increase vulnerabilities, and added expenses.

Net3 Solution: Net3's migration service will analyze network infrastructure, compute and storage resources, performance, availability, security, compliance and regulatory requirements to ensure the migration is done the correct way your business needs.
#2: Failing to Define Specific Business Goals
Risk: Migrating to the cloud should not be done just because, there should be a specific business goal defined in order for the full benefits of the cloud to be utilized. With no defined business goal of migrating data to the cloud, migration costs could increase along with wasted time spend moving applications.

Net3 Solution: Net3's migration service works to meet your specific business objectives with superior support. Our detailed analysis includes:

All your business applications with their dependency details: firewall rules, client app DNS, CPU usage by application, etc.

A compatibility analysis of your applications and their dependencies in each cloud provider

A cloud readiness assessment for each application based on size, complexity and platform portability.

#3: Increased Security Issues
Risk: When migrating data to the cloud, there are many security risks that could affect the success of your migration such as accidental errors, compliance breaches, misconfigured servers, malware, ransomware, etc. Many companies fail to admit that they are not skilled enough to enable the appropriate security precautions.

Net3 Solution: Net3 will ensure your cloud environment's security and compliance (HIPAA, FISMA, PCI, etc.) as well as mitigate risks through continuous monitoring and alerts.
#4: Wasted Cloud Costs
Risk: According to Gartner, as much as 70% of cloud costs are wasted. Once businesses are up and running in the cloud, continued maintenance and monitoring needs to be done. For SMBs with limited staff and/or resources, this can be a challenge. If working with a cloud provider, the cloud provider may not look for wasted spend, and may fail to disclose the extent of additional costs and services.

Net3 Solution: Net3 will analyze your cloud set up and pinpoint your waster or underused resources to keep your cloud spend at a minimum. Receive itemized billing reports (daily, weekly, monthly) along with purchasing recommendations on where money can be saved. Net3 will also provide great tips for best practices to keep your cloud environment optimized, without hidden feeds or charges.
#5: Data Loss
Risk: All data should be backed up prior to migrating to the cloud. It is possible that while data is transitioning to the cloud, some may become missing, incomplete, or corrupted. By backing up your data, you can ensure that lost data will not disrupt normal business operations.

Net3 Solution: Net3 offers versatile backup solutions such as Acronis and Veeam that can offer protection against unexpected data loss.
#6: No Strategy
Risk: Without having a set strategy in place, you will risk having system failures and spend more money than anticipated. Before choosing a strategy, you will first need to determine which applications will be moved to the cloud. Some migration strategies include:
Re-host: Moving applications with no change.

Re-platform: Make small application modifications based on your new cloud environment.

Re-purchase: Replace systems with newer cloud-based alternatives.

Re-architect: Redevelop applications for the new cloud platform.

Retire: Eliminate a system altogether from the IT portfolio.

Retain: Don't migrate the application and leave it how it is for the time being.
Net3 Solution: Net3 provides a tailored migration plan with highlighted risks and opportunities surrounding your existing technology along with detailed guidance through all migration phases. You will also be able to view the settings and details for each application/server group to confirm it matches your migration plan, then view their migration status as your data set moves to the cloud.
Many businesses have elected not to migrate to the cloud over fear of costs, security issues, and reliability. While these risks and fears are valid, Net3 offers a smooth transition from any on premise or cloud environment to the cloud of your choice with agility, speed, security, with no disruption to the business. Take advantage of all the benefits the cloud has to offer with Net3 by your side the entire process.