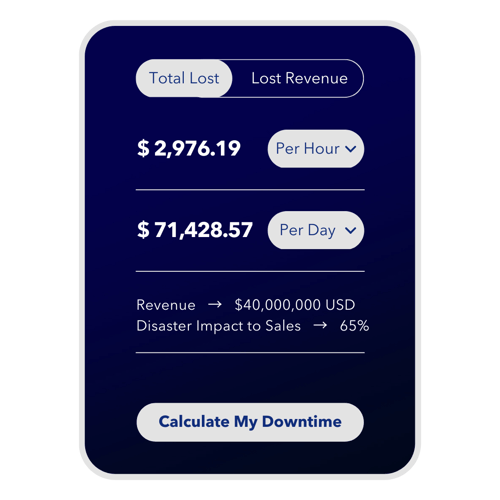 IT Downtime Calculator
How much data can your organization afford to lose?

Downtime may cost your business more than you think.
The question is no longer IF your business will be faced with a disaster, but WHEN your business will face a disaster. The implementation of a Disaster Recovery Plan is critical to minimize essential data loss, maximize productivity & efficiency, and to ensure uptime. Businesses today are all at risk of ransomware, natural disasters, or simple human error.
Ask yourself, do you know exactly how much an outage could cost your business if faced with an IT disaster?
Calculate the true cost to your business in the event of an outage. Our downtime calculator is powered by Zerto - our Disaster Recovery Solution. Utilize this tool to gain insight into your business impact now!
Net3 Technology DRaaS Features:
Continuous Data Protection
RPOs of Seconds & RTOs of Minutes
Non-disruptive DR Testing
2 Free DR Tests Per Year
Customized DR Runbook
24/7/365 Support From Net3 Cloud Engineers
Ransomware Recovery Using Granular Checkpoints
Automated Recovery & Migration Process
Option to Replicate To Our Cloud, PvDC, as an Additional DR Site
Need help calculating the true cost your business would face with downtime?
Use the calculator on the right to see how much a minute, hour, and week of downtime would cost your business - in real time!